by Lee on Feb.17, 2009, under Theme Parks
This post is for Saturday 7th February 2009
About 12 months ago, news went round that It's a Small World, would be going down for renovation. Part of this would be to upgrade the channel which the boats travelled a longer (rumoured to be to allow for slightly larger guests to ride in the boats without them 'bottoming out'). It would also be to to clean up and fix any problems with existing dolls to ensure the experience remains at the highest quality.
What got some people up in arms though was the possibility of Disney characters being introduced into the attraction. Although some people were in favour of these changes, others felt it would be taking away from what the attraction was meant to be like.
There have been 29 Disney and Pixar characters added to the attraction in total, with some being dolls and others 'toys' (accompanying the dolls). Characters added include Aladdin, The Three Caballeros, Alice and Stitch amongst many others. Each of the characters has been included in a suitable section to represent it. For example, Peter Pan and Tinker Bell are flying over one tower of the London Bridge and The Three Caballeros represent Latin America.
During the renovation, a new 'Spirt of America' section was also added, which is home to Woody and Jessie from Toy Story. This scene is based on original concept art by Disney Legend Mary Blair.
Disney has also recently published a new video podcast which features It's a Small World and looks at its history and the changes made for this renovation.
As people get an opportunity to ride on the new It's a Small World after the reopening, I'm sure we'll start seeing more blog posts on whether or not they think adding Disney characters was a good idea.
From what I've seen from photos on the internet, Disney has done a good job at trying to fit the character dolls (or toys accompanying the dolls) into the same style as the other dolls within the attraction. This I think, helps them fit in and make them a bit more acceptable. There are, however, very few general shots about yet, so it is hard to get an impression of how well they fit into the respective areas. I hold out hope though that they haven't been made too obvious to the point of detracting from the general experience and message behing this attraction.

Loading ...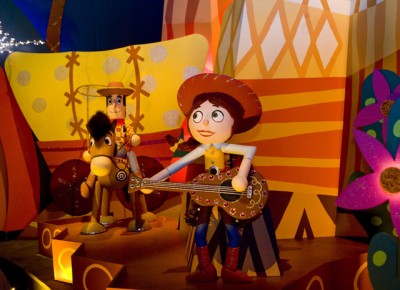 :disney, disneyland, it's a small world
No comments for this entry yet...