by Lee on Apr.06, 2009, under Technology
This post is for Monday, 6th April, 2009
I was listening to Inside The Magic on my walk to University this morning and listened to a huge list of films that Disney are thinking about bringing out in 3D. Most of these are altered version of older films, that they want to re-release in cinemas (for example, they're talking about releasing Toy Story 1 & 2 in 3D in sinema to help promote Toy Story 3, which is also in 3D).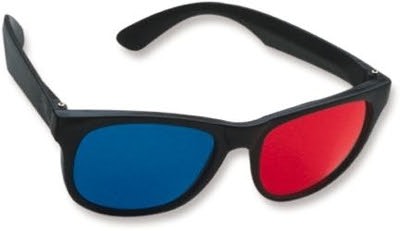 I don't really know where this interest in 3D technology has come from. If you'd have asked me about 3D films a year or so ago, I'd have said it was something that used the 'classic' blue and red glassess which had gone out of fashion. But it seems to have come back. Fortunately, most of the films seem to have moved away for using the technology for 'Cheap 3D Tricks' (think, things flying at you, floating in the air etc.)
Another 3D film has been released recently called Monsters Vs Aliens, from Dreamworks and is probably the reason why the BBC has recently released this article on 3D Technology.
One of the useful things on this page was an animated version of this slideshow explaining how 3D technology works:
It discusses quite a bit the advantages and disadvantages of the 3D technology, including it results in less vibrant colours, often resulting in more expensive cinema ticket prices due to filming costs being more expensive etc. One of the interesting comments that is made though is:
What's more, 3D films pose a challenge to the black market.

"Ninety per cent [of piracy] is due to someone taking a camera into a movie theatre," Jeffery Katzenberg, president of DreamWorks Animation told CNN.

"You can't camcorder 3D. So the by-product of this is that it will have some serious implications about that."
And I wonder if this is the real reason we're seeing an increase in the number of films coming out in 3D, including the re-release of older films. If they're harder to pirate, it's going to either result in more DVD sales or people going to the cinema to get the full experience.
No, it still allows for when actual copies of the film are stolen (see the recent Wolverine problem), however, this happens a lot less, is often easier for the companies affected to take action against and wouldn't match the current piracy market that exists.
I personally haven't had an opportunity to head to the cinema yet to see a 3D film in action, so I can't really comment if it is enhancing the experience. I've heard off friends that it isn't resulting in too much of the dizziness etc. that they were expecting, but those who wore glasses struggled a little more with the 3D glasses and found the films slightly harder to watch.
So is 3D there for gimmicks? There to enhance the cinema experience? Or there to reduce copyright? My thought is the latter.

Loading ...
:3D, cinema, copyright, disney, film, pirating
1 comment for this entry: