by Lee on May.17, 2009, under University
This Post is for Thursday 14th May, 2009
At the start of this week a new battle started around Bath – the Battle of the Buses between First and Wessex Connect.
Vs
This Monday Wessex Connect launched its rival service to the 18/418 – the U18. Concentrating on the Oldfield Park to University route, it has been highly campaigned for from the Students' Union as an improvement to the bus service from First – a topic of conversation which seems to frequently come up.
The U18 was announced at the same time that Wessex Connect announced that they would start providing an alternative to the cancelled 20a/c service in Bath. As well as providing more buses and lower fares than first, they also announced that they would be donating 1p per ticket sold to a charity, chosen by students.
The route covered by the U18 seems to be concentrating on passengers for Oldfield park – probably hoping to capitalise on them to fill the buses earlier on in the route. They're also the customers who have complained most about the poor service that first have been providing. As well as going a slightly different route to First, they are also providing buses every 10 minutes – a lot more frequently than the old bendy buses, although they do stop a lot earlier in the evening (no Flirting on a Friday night then getting the U18 home I'm afraid!)
Fares so far are proving slightly cheaper, with 10 journey tickets being made available at the cheaper rate of £5 as an introductory offer during May (people have reported that quite often their 10 journey passes aren't being stamped, causing it to become more like a 14 journey pass!). Although bus pass costs are up on their website, it is yet to be seen if they will do (and if so the price) a joint student bus pass between them and first – making it a lot easier for the student to travel. More information on the uni-connect service, including timetables and fare information can be found on their website: http://uni-connect.co.uk
However, is it all good news?
The choice of date that the service began on was an interesting one. They were already starting the takeover of the 20a/c service on the Monday but I'm not sure if it was a good idea to start the new U18 service at the same time. At the university, we've just gone into exam times, meaning the number of people travelling to the University is drastically lower than normal (I don't think anyone would be suffering from full buses, even if the new service hadn't started). The one benefit though is that it is helping them get their name out, as well as tempting people over to the service, in time for when everyone will be returning to the University in Septemeber and purchasing their new bus passes. They'll be hoping that starting earlier will help them sell some more passes (and probably cover the costs of starting up this service, I personally don't think they'll be doing much more than breaking even at the moment).
The reduced 10 journey ticket to £5 is probably also hoping to do the same. Unfortunately, at the moment I think they're failing at getting people over.
Two occasions last week, a U18 and an 18 pulled up at The Guildhall bus stop at the same time. No-one got on the U18 and everyone waiting got on the 18. Now the easy reason for this would be that everyone already had a bus pass for the 18 (my reason for getting on it). But they didn't. Most of them seemed to be buying return tickets. Now was it because they were planning to stay later? Perhaps they just wanted to stop with what they're familar with for now.
I'm not the only one who has noticed this. I spotted the following twitter post by @stevebr77 a few days ago: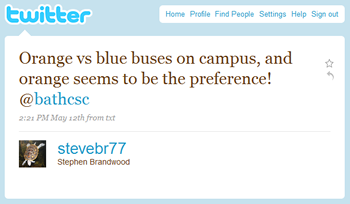 Does this mean the U18 has failed? Not really. From what I can gather it's proving popular with people in Oldfield Park and will probably continue to gain popularity come next academic year when people will be getting their new passes.
I think one mistake they have made is failing to brand all their buses. You've seen the photo up the top of the blue bus they're using. It easily makes it recognisable as a new service, so does well to help differentiate to those needing to board the bus, as well as providing good advertising. However, Wessex Connect don't seem to have managed to get all their buses branded, so have been using a reasonable number of their 'standard' buses. These don't look too dissimilar to First's buses, so hasn't really helped promote a new service. It has in fact led to some confusion with some people who have got on the bus, tried to use their First bus pass and have been able to do so.
From First's point of view, I would be cautious, but not too scared yet. It would be interesting to hear from them on their blog about whether or not the new bus service has had a huge impact and whether they'll be doing anything to combat it.
They'll probably continue to be quite succesful with the weekend and late night service, as their isn't too much competition. It wouldn't surprise me, however, to see them drop the frequency of the buses during the normal daytime. If I was them, I'd keep their timetable the same, let people buy their bus passes in September / October, then reduce the frequency from every 6 to every 10 minutes (at opposite times to U18) – not particularly nice for the customer, but it wouldn't be a huge impact.
The alternative solution would be to remove it's 418 route, or perhaps alter it to do Bus Station to Bath Spa only – that way they'll still benefit from the business there, as well as what they pick up from the Guildhall.
The other thing that really needs looking at is the bus stop at the university. With so many buses running, once you have a few buses queued up to catch up time (from either company), it soon turns into chaos up there – as I saw when I travelled to the University last Monday. This is made worse as both buses are trying to load from the same point, so end up blocking each other in etc. If the two services are to continue, I think the University will have to look at either redeveloping the turning circle to have two loading points (still with space for extra buses to wait / unload). Or, they're going to have to move one of the bus stops to a slightly different location – with it being rumoured that the U18 may extend the service to go to 8 west, perhaps their stopping point could be moved to the other side of the turning circle.
For those of you in Bath, leave a comment to let me know what you think about the new bus service. Will it succeed or fail? Will we be seeing them expand the route any time soon?

Loading ...
:bath, bath students union, bus, buses, busu, first, uni-connect, university of bath, wessex connect
5 comments for this entry: