Tag: bus
by Lee on Jun.03, 2009, under University
Further to my post on the U18 Vs The Bright Orange Bus, could we be seeing the U18 making another move towards taking some of First's business and making it more likely for people to switch.
The following was posted on the Uniconnect facebook group: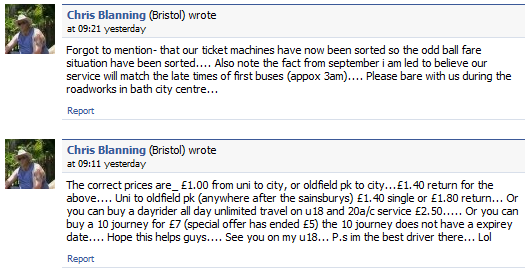 Having the buses going till 3am – even only 2 an hour, would certainly remove one of the main arguments of getting a U18 bus pass. It would also make life a lot easier for people getting home after the SU's club nights.
All we need now is a joint bus pass between the two services.
Comments Off
:bath, bus, buses, u18, uniconnect
more...
by Lee on May.17, 2009, under University
This Post is for Thursday 14th May, 2009
At the start of this week a new battle started around Bath – the Battle of the Buses between First and Wessex Connect.
Vs
This Monday Wessex Connect launched its rival service to the 18/418 – the U18. Concentrating on the Oldfield Park to University route, it has been highly campaigned for from the Students' Union as an improvement to the bus service from First – a topic of conversation which seems to frequently come up.
The U18 was announced at the same time that Wessex Connect announced that they would start providing an alternative to the cancelled 20a/c service in Bath. As well as providing more buses and lower fares than first, they also announced that they would be donating 1p per ticket sold to a charity, chosen by students.
5 Comments
:bath, bath students union, bus, buses, busu, first, uni-connect, university of bath, wessex connect
more...